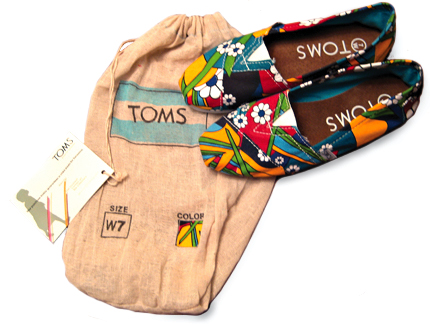 Author: Kristin T. Scroggin, owner Millennials -R- us
I am a Communications Professor and I get to see some INTERESTING trends come through my classroom. If you ask any of my students they will tell you I have a particularly deep hatred of Toms shoes. I have three good reasons:
1. They honestly are the UGLIEST shoes I've ever seen in my life. They remind me of shoes you would find at a dollar store, except they come in hideous colors instead of white. My grandmother wouldn't be caught dead in these "all weather and situation
appropriate" house shoes.
2. The primary reason my Millennial students want to wear them is that famous people wear them and they're persuaded by "product placement" on popular television shows. If they
really
looked at the shoe and how it makes their feet look like colorful marshmallows, they wouldn't like them, but because they're "in" they choose to ignore that fact. The immediate rebuttal to someone pointing out their shoes are ugly is, "they're comfortable". Well, so are Crocs, but I don't see you sporting THOSE shoes... do I?
3. They've bought into the idea that they really are helping a child without shoes by buying a pair of $50-80.00 shoes! They are "buying" feeling good about helping someone else WHILE they get something for themselves. They're giving AND receiving. And, of course, they're ignoring the fact that they could go and buy 5-10 pairs of cheap ugly shoes (like toms) and mail them to an orphanage themselves and help five to ten kids have a pair of shoes instead of just one. OH, and they're oblivious to the fact that According to a January 2009 Business Week article, the company made $4.6 million in revenue from sale of it's 115,000 pairs of TOMS shoes. Or, as the young Ethiopian woman who founded SoleRebels, Bethlehem Tilahun, said "If you give a kid shoes they wear out or they grow out of them, and then what do they have? If you give the kid's parents a job, the whole family will always have shoes." Nor do they look at the little label in their sweat-soaked shoe that says "made in China".
So what's the harm here? Well I think that this same mentality is showing up in Millennials the workplace and the classroom. Using Tom's as a parallel to the workplace we can see that Millennials:
1) DON'T recognize the difference between quality and popularity.
We see this manifest itself by examining how often they call into work and the quality of work they submit. If their friends are calling out sick often, using social networking during working hours, texting in meetings, then they will also. Overwhelmingly in the twelve-years I have worked with this generation I have seen that people who normally have a "good head on their shoulders" Will opt for doing what is popular instead of doing what they know is right. And not just in middle school, but at 22, 23... 30 years of age they're still being influenced more by what their PEERS think instead of deciding what THEY think and doing what they know to be right.
2) Media tells them what a "normal" work environment is like and they believe it
. In Communications we actually call this
Cultivation Theory
. Essentially Cultivation Theory, in its most basic form, suggests that exposure to television, over time, subtly "cultivates" viewers' perceptions of reality.So what are the Millennials watching? Reality Television: where people lie to win very little money, leave their families to be famous, hoard stuff, have no job and live by the "Gym, Tan, Laundry" mantra of Jersey Shore. Where people party all night, are thin without exercising, and everybody owns an iPad regardless of salary. If you look at the majority of people between the ages of 30-12 on television right now they're not working hard, if at all, and don't really seem to care much. So why should our employees? That's what's normal right? And we are seeing that bad patterns by previously hired employees such as cutting corners, taking longer lunches, and coming in late, rub off very quickly on the "Millennials". In their attempt to be "normal" they actually alienate themselves in the workplace.
3) They won't give (for very long if at all) without getting.
If you've worked with a Millenial for very long you know one thing, they're needy. They ask questions they could find the answers to very easily, need constant reassurance that they are doing well, and require a near weekly pep-talk. The problem? In a busy workplace there's no time for coddling. Which leaves many Millennials feeling as if they're wandering alone, not sure if they're doing things correctly, and feeling sure they're going to disappoint someone and be in trouble soon. Without the reassurance or the strokes for "working hard" they will stop giving. Just like Toms, they require to GET something if they're going to give ANYTHING. This frustrates Baby Boomers and GenXers, and has them scratching their heads on why these "needy babies" are being hired at all, especially since they have no intention of doing their job AND the Millennials job too.
So you can see that turns the generation gap into a giant echoing canyon. On one side the Boomers say "hey, take some initiative and do something!" And on the other the Millennials say "why would I do something new? I don't even know if you liked what I did before!"
So how can you use this lesson if you're managing a Millennial?
- Schedule a weekly time for feedback for your Millennial.
It won't take you more than a few minutes to shoot an email to them or have a quick chat to either help correct a problem before it gets out of hand or tell them they're doing a good job. Millennials thrive on rewards, not coercion and they consider a compliment from the boss a reward.
- Set standards and stick to them
Be very clear with your Millennials about what your expectations are for them and their work. Don't assume that "they should know that for Pete's sake", because they DON'T. If you see a line being crossed cut it off early. The longer you allow a pattern of behavior for them the easier it is for them to repeat it.
- Give clear feedback
Don't forget, you've been at this for a while, but they don't know all you know yet. It's sort of like trying to teach someone to drive a straight-shift car.... parts of it are just intuitive. So when you say "I don't know how to explain it, you just do" it frustrates your Millennial, de-motivates them, and makes them feel dumb (which is the worst feeling in the world to the people that think they're God's gift to the planet). So be very clear on what you want them to do and really think about how you actually learned it. Was it experience, or a hard skill?
Yes Millennials are needy, and Toms has helped make them that way, but there ARE solutions. You just have to be willing to look for them.
Kristin Scroggin is available to come and talk to your organization about working with Millennials! Contact her HERE to learn more information